Linux on a Gericom Webgine Advance 1400c
Document history:
2005-11-01: I have the laptop back :) no more battery life though…

2003-12-30: I do not have the laptop any more

2003-05-13: IEEE1394 port is an ilink port (not firewire) Still don't know if it works…

2003-02-23: pcmcia in fact is supported!!!

2003-02-01: is pcmcia really supported?

2003-01-12: cd-rw burning is ok;

2003-01-01: winmodem support is ok; acpi support is ok, apm is not.

2002-12-30: initial release.
About
You can find cheap laptops in supermarkets now; some of them even have many options that would cost you twice or three times their price if they were from some well known manufacturers… The only problem for me was compatibility with linux…
I finally decided to go for this Webgine Advance 1400c from Gericom, even with the lack of information certifying that linux would run, and how it would…
So, here is a page that gives:
Products specifications of the webgine Advance 1400c

Linux compatibility chart

Usefull files
Of course, information provided in this document is absolutely not warranted and using piece of it is your entire responsability
Linux came here for me in replacement of the WinXP provided with the laptop. As you can guess, the initial partition table was a single NTFS huge volume. I used Debian 3.0 which may not be the most appropriate considering versions of servers and kernel required, but this is my favorite distribution and the one I know the best…
Laptop specifications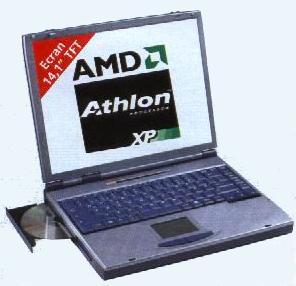 Processor
Processor
AMD Mobile Athlon XP1400+
L1 cache
128kB
L2 cache
256kB
System memory
Default
256MB, 3.3-Volt 64-bit bus
Memory expansion
total of two 144-pin SO-DIMM sockets, Max 512x2MB
LCD
display panel
14-inch XGA active matrix
Graphics
Controler
Via Twister K with S3 savage4 VT8362 (int. 2D/3D accelerator) AGP4x Motion compression and IDCT supported for DVD playback Shared memory from 8 up to 32MB S-Video encoder
Storage
Floppy
3.5" 1.44MB
Hard drive
2.-inch/3-inch format 20GB
CDRW-DVDROM
5.25-inch 24x speed
Audio
Chipset
Via Twister K with integrated VT8231 Full-duplex and independant sample rate converter for audio recording and playback 64-voice polyphony wavetable synthesizer
Modem
Chipset
Via Twister K with Modem controler integrated with MDC card
Speed
V90/K56flex, V34, V17, v29 supported
Lan
Chipset
Via Twister K with integrated PCI Fast ethernet function for 100base-TX network standards
Features
IEE802.3u (auto negociation and parallel detection for automatic speed selection) Integrated DMA controller for low CPU and bus utilization. Remote Wake-up Scheme supported
PCCARD
PCMCIA controller
O2Micro OZ 6912TE controller
Features
Single slot for type II
Ports
VGA
one 15-pin CRT connector
Audio port
one stereo line-out jack & one microphone-in jack
Infrared port
one FIR led
Parallel port
one 25-pin parallel connector (ECP/EPP)
Ilink
one Ilink (IEE1394) host connector
USB Port
two USB connectors
S-Video port
one s-video for analog output
Modem port
one standard phone jack (RJ-11)
LAN port
one standard network connector (RJ-45)
Power port
one DC-connector
PS/2 port
one 6-pin connector (keyboard/mouse)
Physical/electrical specifications
Main battery
Li-Ion 8-cell, 59.2W, 14.8V, 4000mAh
System OFF recharge
3~4hour (100%)
System ON recharge
8~10hour (100%)
power management
APM 1.2 and ACPI 2.0
Size
255(D)x316(W)x39(H) mm
Weight
3.2Kg with CDROM
Linux compatibility chart
This chart is a result of a Debian GNU/Linux 3.0 install. I guess that other distribs will manage to get it out easily too… Kernel at setup is a 2.2.20 which recognises quite a lot of things, but as this laptop incorporates interesting modern features, I quickly switched to a self compiled 2.4.20. Stock XFree is a 4.1.0 version which needs some of the improvments done in the next releases (4.2.1 for example).
| | | | |
| --- | --- | --- | --- |
| X11 | S3 ProSavage KN133 | OK with XFree 4.1.0, but hangs in switching from X to vt… Better with XFree 4.2.1 (no more nasty bug, better X-Video accelerations) s3switch is a utility allowing to switch output between crt/lcd/video: Not tested (I have no Svideo-cinch adapter) Usefull link: S3 savage support on XFree 4.x.x | OK |
| Sound | VIA TwisterK + VT8231 | OK with via82cxxx_audio, ac97, uart401 oss modules. | OK |
| USB | VIA UHCI USB | OK with usb-uhci module (test with a wacom tablet and sony powershot) | OK |
| Network | VIA VT6102 Rhine-II | OK with via-rhine module | OK |
| Modem | Smartlink AMRMO winmodem, VIA AC97 Modem Controller:VIA3058 card | Ok with theses modules (2.7.7 tested OK) provided by Smartlink (non-GPL but sources!) | OK |
| IRDA | Via fast infrared device | Known not to be supported at all | NOK |
| IEEE1394 | VIA OHCI Compliant IEEE 1394 Host Controller | ? (I have no firewire/ilink device to test, but the ohci1394 can load) | ??? |
| PCMCIA | CardBus bridge O2 Micro | OK yenta_socket module loads but with theses errors: > PCI: No IRQ known for interrupt pin A of device 00:08.0. > Yenta IRQ list 0820, PCI irq0 But then, every card can get an irq… | OK |
| CDRW+DVD | | OK DVD/CD fs access: with ide-scsi, scsi_mod, sr_mod modules. | OK |
| | | DVD play from mplayer | OK |
| | | CD Burning: 8x speed | OK |
| Keyboard | | OK. Extra '@' key has a keycode of 178. | OK |
| Touchpad | | OK. | OK |
| COM Port | | OK. (tested with a palm and as a console to a sparc box) | OK |
| LPT Port | | Not tested. Seems OK. | OK |
| Energy management | APM/ACPI | NOK: APM, OK: ACPI (processor, ac_adapter, battery, system, thermal, ec, button) | OK |
Usefull files/commands results
More links